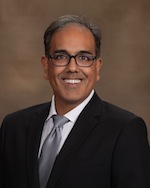 Rakesh Ramde, Esq.
Attorney
Rakesh Ramde represents entrepreneurs, businesses and high net worth individuals with their legal needs. Mr. Ramde routinely handles legal and litigation matters, partnership, corporate formation and governance, business financing, intellectual property, real estate, agreements and general business counseling in a wide range of technology and commercial areas.
Prior to joining Structure Law Group, Mr. Ramde was a practicing attorney with corporate clients and at established Silicon Valley law firms, such as Cooley LLP and Pennie & Edmonds. He has provided services to technology clients, start-ups and technology investors for many years. Mr. Ramde routinely managed cross-functional teams in the acquisition, strategic partnering, sale and development of technology in wireless, software, power management, cloud and semiconductor sectors. Mr. Ramde negotiated and closed over 40 acquisition and partnership deals with Fortune 500 companies, VCs and universities, generating significant returns for companies and investors.
Mr. Ramde has been a board member for several startup companies. Recently, Mr. Ramde led the investment in Applied Protein Sciences (APS), a biotech start-up company recently acquired by Pivot Pharmaceutics (OTCQB: PVOTF).
Prior to his legal career, Mr. Ramde was a consultant at the management consulting firm PRTM (now a part of PwC) in the telecommunications group. Previously, Mr. Ramde began his career as an engineer at Hughes Electronics where he was a Member of the Technical Staff working in commercial satellites, including DirecTV.
Education
J.D., University of Pittsburgh, School of Law
MBA, Carnegie-Mellon University
M.S., University of Southern California, Electrical Engineering
B.S., UCLA, Electrical Engineering
Professional & Bar Association Memberships
State Bar of California
Member IEEE