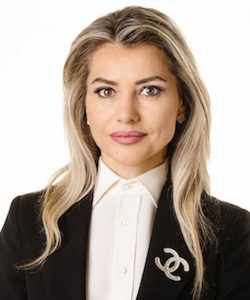 Tatiana Delogramatic, Esq.
Attorney
Tatiana Delogramatic represents clients in all aspects and stages of complex civil litigation, including business disputes, commercial disputes, real estate matters, breach of contract issues, employment litigations, intellectual property infringement, and malpractice disputes. Ms. Delogramatic has experience in trials, arbitrations, and mediations.
Before joining Structure Law Group, LLP, Ms. Delogramatic was an attorney at a civil law firm in Palo Alto. Prior to that, Ms. Delogramatic worked as an attorney at Google in the Legal Investigation Support Department. In that role, she managed criminal investigation inquiries from government enforcement agencies. She also ensured compliance with data privacy discovery requirements by providing opposing parties with appropriate access to relevant materials.
In addition to her legal experience in the United States, Ms. Delogramatic has experiencing practicing law in Europe. There, she gained several years of litigation experience representing both corporate and individual clients in various legal matters. Ms. Delogramatic began her legal career as a Counsel at the Moldova Stock Exchange. She was responsible for supporting the integrity of the stock market and associated transactions, a role that included investigating and prosecuting violations of the exchange's rules and securities laws.
Known for her assertive advocacy, passion for law, and uncompromising ethics, Ms. Delogramatic is a dedicated professional who takes great pride in her work. Her diverse experience across various legal systems has equipped her with a unique blend of legal knowledge. This multifaceted background significantly influences her approach, enabling her to achieve successful client outcomes. Ms. Delogramatic is fluent in Russian and Romanian, with competency in Spanish and French as well.
In her free time, Ms. Delogramatic loves spending time outdoors with her family and traveling, which serves to broaden her cultural understanding and perspective.
Education
J.D., International Law, State University Law School, Chisinau, Moldova
(Graduated Cum Laude)
B.A., State University, Chisinau, Republic of Moldova
LLM, Bucharest University Law School, Bucharest, Romania
Jurisdictions Admitted to Practice California
U.S. District Court for the Northern District of California
U.S. District Court for the Central District of Illinois
U.S. District Court for the Northern District of Georgia
Moldova State Bar

Legal Specialties and Certifications
Berkeley Center for Law and Business, University of California Berkeley, School of Law, Venture Capital University, Nuts and bolts of Venture Capital, Venture Fund Fundamentals, Startup Fundamentals, Venture Deal Fundamentals.
Artificial Intelligence Institute, Berkeley Center for Law and Technology
Commercial Contract Fundamentals, Berkeley Law Executive Education
Contract Law: From Trust to Promise to Contract, Harvard University
Certified Professional Compliance Officer (CPCO) in Healthcare Compliance, AAPC